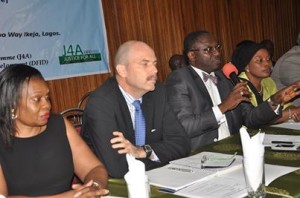 *AT THE FORMAL OPENING OF THE SEXUAL ASSAULT REFERRAL CENTER
(SARC) HELD ON THE 25TH NOVEMBER, 2013"
Distinguished guests of honour, ladies and gentlemen; As the chief host of this occasion, it gives me great pleasure to be part of this prestigious event that seeks justice and medical support services for victims and survivors of sexual assault in Lagos.
I would like to take the opportunity to thank the Partnership for Justice, and of course the Department for International Development for taking this bold step for the first time in Lagos to support the helpless citizens.
I would also like to extend a word of appreciation to this Organisation Partnership for Justice' for inviting all the important stakeholders that have joined hands to collectively support, fight and take a stand against women and child abuse.
More importantly, I would like to acknowledge the responsive approach and services given to survivors at the Sexual Assault Referral Centre (SARC). We are opening today; it will further go a long way to increase access to medical services and awareness of Lagosians.
This centre will enable us to respond more efficiently and effectively to the needs of victims of sexual violence. LASUTH is grateful for your commitment in the fight against gender based violence in Lagos.
Victims of rape or sexual assault may feel ashamed, angry, guilty, distressful and anxious. There may be a disbelief of what has happened to them, and hence they need to get back to their normal lives as quickly as possible. I must tell you that whatever they feel is normal. They need back their lives and we must be committed to
restoring it.
This occasion stands to confirm our loyalty to our collective responsibility, through different ways of restoring social values, safety, security and peace in the communities we serve. It is an event that demands us to take yet another pause to reflect on what have been done right, what went wrong and what should be done to create support services, and of course, justice system that is victim-centred, responsive, quick and effective.
Sexual violence is a gross violation of women's rights, a moral and ethical degeneration, and a stain on our collective conscience. Sexual abuse can lead to lost childhood, abandoned education, physical and emotional problems, the spread of HIV, and an often irrevocable loss of dignity and self-esteem. Women in Lagos have always been at the forefront of the liberation struggle, and we owe an immense debt of gratitude to women for the instrumental role they play in the polity.
We also need to understand that some victims of crime have special needs that require special services that can only be delivered by specialists of specialized fields. I believe this is the reason why this organisation has been set up.
Ladies and gentlemen, a lot has been done, and a lot is yet to be done. With our united effort, we will continue to make impactful and indelible victories in creating conducive environment for easy access to medical support services to sexual assault victims, victim's empowerment and sexual and gender based violence prevention.